On Saturday 25th February, myself and Helen Smart from the Liverpool Archive were invited to present Rewind Fast Forward as part of the 'OUTing the Past' events at the Museum of Liverpool. Outing the Past is the third national festival of LGBT history, with events happening across the country. Sandi wasn't able to present with us as she was screening her film made as part of the project at the Lesbian Lives Conference in Brighton.
It was a packed day, with the opportunity to see some interesting presentations before our talk. I particularly enjoyed hearing about the 'International Times' prosecution in 1969, from Val Stevenson, as well as Jane Hoy and Helen Sandler's take on Frances Power Cobbe, an Irish Feminist, journalist and political activist, and her partner of 35 years, Mary Charlotte Lloyd, a Welsh artist.
We showcased Rewind fast Forward at 2pm to about 35 people. We focused on the practical side of the project, how we had put things together, our partners, funders and supporters as well as screening a small selection from Sandi's archive.
This led to some interesting discussions around the importance of archiving and the difficulties that often arise, such as advancing technology or relying on a particular service provider. This is a particular problem with video tapes, where the equipment to play them is no longer manufactured. Once you have items digitised, hard drives can still fail. We don't print out photos anymore and they can easily be lost.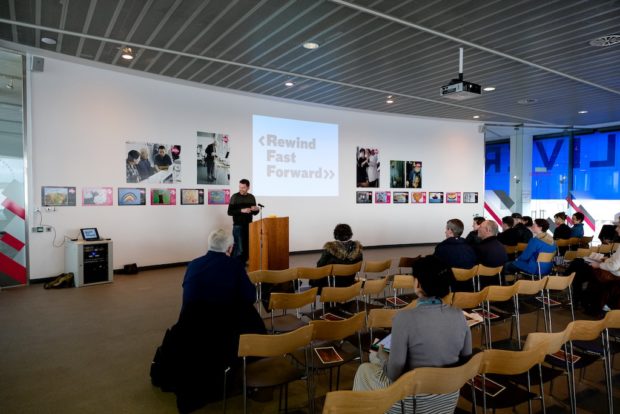 Overall, there was a lot of interest in the archive with people asking to see more and it was good to be able to direct them to the website and to the Central library where the work is now freely available.
Photos by © Dave Jones/Museum of Liverpool.