Digitisation.
Digitisation and digital preservation have recently become much more prevalent in the archiving profession as archive services and record offices seek not only to preserve their collections but also to widen access to them. Digitising archives opens up the opportunity for collections to be accessed online which means that people don't have to be in the same city or even country that the collection is held in to be able to use it.
One of the aims of the rewind fast forward project was to create an online space for people to have access to some of Sandi's digitised film footage and photographs. With help from some of the project volunteers, we were able to digitise all of the photographs that made up the Sandi Hughes archive at Liverpool Central Library which at the time of accessioning was around 570.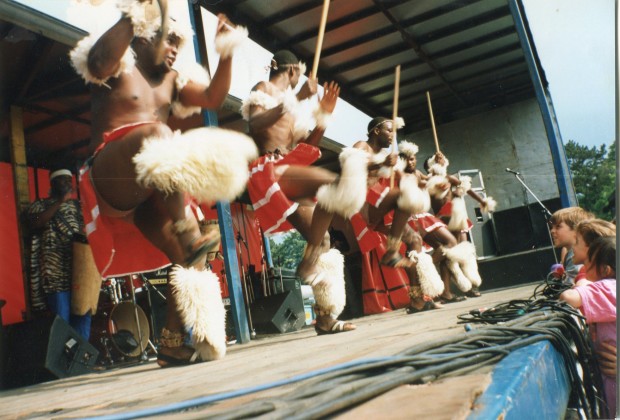 Once the collection had been completely catalogued and all of the photographs had been detailed and given reference numbers, the digitisation process was a relatively simple one. The digitised images were all made using a flatbed scanner and saved initially on a laptop and an external hard drive in JPEG format. Using the flatbed scanner rather than an overhead meant that any cropping and rotating of the images could be made before it was scanned – saving time and ensuring a the best quality scan.
However, like with all processes in a project of this nature there were still obstacles to overcome. When we had initially discussed digitising the collection at the library, Helena the head archivist had pointed out the difficulties we would have being able to load any software to use a scanner onto their computers, or even to plug the scanner in as the USB ports are disabled on staff networks for security reasons. I have mentioned above the benefits of digitising archives for people who live a long distance from where the collection is being held, but digitised archives can still be equally as useful for service users who are coming into the record office and we hoped to make available a digitised version of all of the photographs for this reason.
Given that we couldn't directly save any photographs onto the record office server, we had to transfer the images across using the internet programme wetransfer, transferring photographs one series at a time. Although this was made the digitisation process lengthier than we had planned, the fact that we already had a well organised and detailed catalogue and help from volunteers meant that we were again able to do this with relative ease.
Some examples of the digitisation can be seen here and also on the online catalogue.
http://archive.liverpool.gov.uk/CalmView/TreeBrowse.aspx?src=CalmView.Catalog&field=RefNo&key=306+HUG